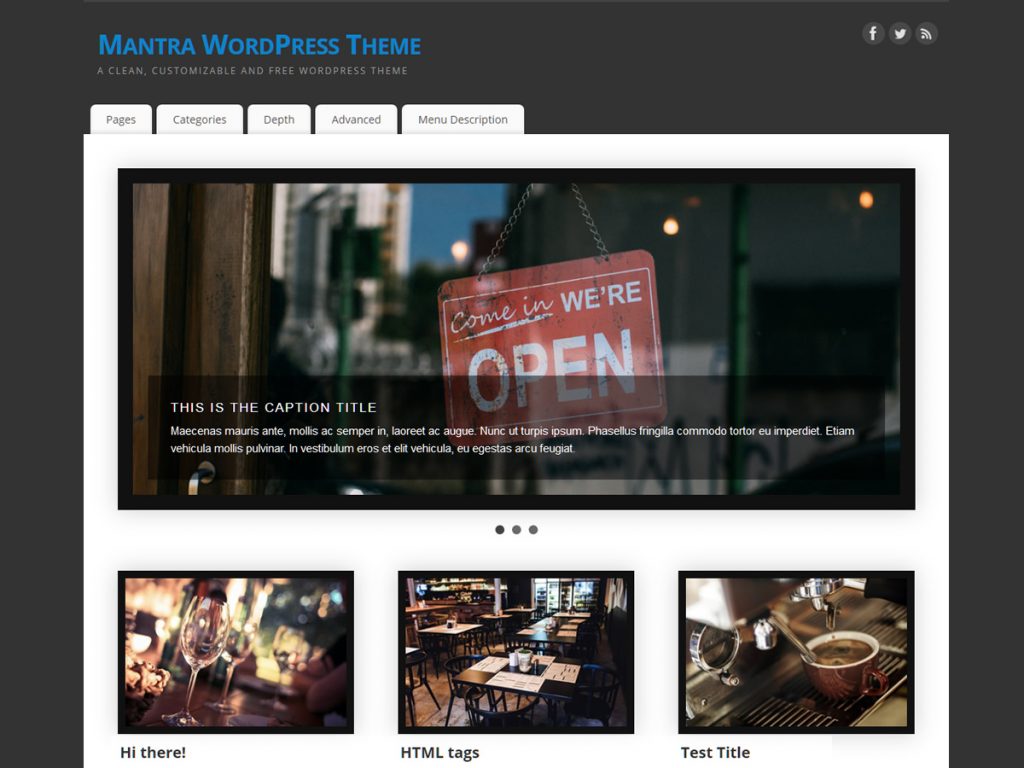 Mantra is a new WordPress theme
Did you know our veteran Mantra theme is almost 7 years old? Cause she is. And in many ways she sure looked her age. Mantra had very small font sizes, small to no padding and some pretty dated graphics. And if you peeked under the hood (naughty you!), you probably found tons of dusty code and messy styles, all glued together by curtains of sticky spider webs.
So you might ask yourself, how could we let our first WordPress theme fade away like that? Well, we couldn't. So this holiday season we spent all our free time to bring Mantra up to date. And we really think you're going to like what's been done.
But before rushing in to make the update, make sure you check out the theme demo and read the changelog. While heaving things forward, some residue will inevitably fall behind.
Important theme changes
While most changes are purely visual there are a few things you should know before making the update:
We moved the theme's page templates into their own subfolder, meaning that they will stop working on the pages where you used them. The solution is simple, though: just edit the pages in question, re-select the desired page template from the dropdown list and update the page. Done.
We updated the social icon images. We brought the social icons from our other themes to Mantra so you actually have 14 new socials to choose from (AboutMe, AIM, Contact, Discord, Dribble, FriendFeed, Github, MindVox, Newsvine, Patreon, PayPal, Phone, ShareThis, TripAdvisor). But they will look and animate a little different. We also had to remove DailyMotion from the list (because the new set doesn't have an image for it).
We also moved quite a few JavaScript and CSS files around so if you get some inconsistencies make sure to clear cache in your caching plugin and force refresh your browser window.
We've completely rewritten the styles and scripts enqueue code to bring it up to date with WordPress coding practices. This can generate styling issues on your site if you're using a child theme which relies on old code.
See this forum topic for more info and solutions.
Many changes will not come into effect unless you reset the theme's settings to defaults. So if after updating, your theme doesn't look exactly like in the demo, that's why.
So there you have it. After hundreds of changes, Mantra may look quite a bit different, but it still feels like Mantra, doesn't it? Of course it does, don't be ridiculous.
Have fun!
Changelog:
v3.0.4
Fixed menu alignment option not working
Fixed 'one column no sidebar' template using broken layout
Fixed sided layout/template responsiveness issues
Fixed presentation page extra text fields losing values in settings page
Adjusted built-in slider to display slide titles on mobile devices
Redesigned back-to-top button
v3.0.3
Cleaned up leftover +50px hardcoded rules on header image width (thanks stormcrow)
Fixed slider not working in v3.0.2 due to incorrect script path (thanks Tezzer)
Improved image overflow handling in the content/sidebars
Improved failsafe layout styling for older/unsupported page template
Added filters for slider and featured image size registrations
Adjusted empty sidebar warnings to only be visible to logged in users with sufficient permissions
Cleaned up and optimized code in theme-setup.php, theme-comments.php, theme-frontpage.php, theme-loop.php, sidebar.php, settings.php
Renamed fonts and socials global variables to avoid name collisions
Cleaned up obsolete relative dimensions code
Changed social icons defaults to indicate the use of full URL
v3.0.2
Fixed magazine layout applying to single posts in 3.0
Cleaned up theme generated styling code and moved custom-styles.php to includes/ subfolder
Rewritten theme styles enqueue code to use current WordPress standards ***see this forum topic for important info
Updated options-based CSS generated functions to use wp_add_inline_style()
Optimized meta viewport code and switched to cryout_seo_hook
Cleaned up some inline JS and options JS code
Fixed Google fonts failing to enqueue until first theme options save
Fixed bullet vertical alignment for widget items
Fixed minor design issues in the theme settings page
Fixed post formats displaying format images on single posts
v3.0.1
Fixed parse error in header.php in 3.0
v3.0
PERFORMED A VISUAL REVAMP OF THE THEME TO BRING IT UP TO DATE WITH CURRENT DESIGN TRENDS
Changed the theme's default site width, default content, headings and meta font sizes and font families, some default colors
Revamped the presentation page with new images, new columns design, layout and animations, removed blockquote from text areas for better shortcut/HTML tags support
Moved all template files into the templates/ subfolder ***see this forum topic for important info

Moved all content-*.php files into content/ subfolder for consistency
Joined together JavaScript, images and CSS folders into resources/ subfolder ***see this forum topic for important info

Updated all social images with new images and added 14 extra socials: AboutMe, AIM, Contact, Discord, Dribble, FriendFeed, Github, MindVox, Newsvine, Patreon, PayPal, Phone, ShareThis, TripAdvisor – unfortunately we had to remove DailyMotion because we don't have an image matching the new image set
Replaced "under the menu" social locations with site absolute left/right
Improved responsiveness (by rewriting from scratch)
Improved RTL support (by rewriting from scratch)
Entirely revamped mobile menu
Dropped text shadow and box shadow effect usage from different elements like site title, post titles, meta areas, images etc.
Increased padding and font size for inputs/selects/textareas
Increased padding for content, sidebars and article containers
Changed comments list appearance
New "back to top" button and animation
Removed single post top navigation (bottom navigation remains)
Removed footer widgets title background and padding
Edited main menu padding and switched to using relative font sizes
Added extra padding and margins to footer elements
Cleaned up compatibility CSS for old browsers
Increased H1-H6 default headings sizes, made H5 and H6 uppercase
Added label for search in searchform.php for accessibility
Escaped all theme options and URLs on output
Improved settings page aspect (padding, font sizes, buttons, layout)
Updated theme screenshot to reflect the new look