Three is a magic number. And everything comes in threes in this special edition post celebrating our first ever WordPress theme. And so it was 3 years ago when yours truly wrote his first ever WordPress post simply entitled "Zombie Apocalypse Theme". It started like this:
We just couldn't believe that there wasn't a single zombie related theme on the whole WordPress. Especially in this millennium. Well, we made one.
Pretty straightforward ei? Well that post has transitioned between 3 sites: it first appeared on Flashrats.com, then was moved to RiotReactions.eu and is now present on Cryout Creations.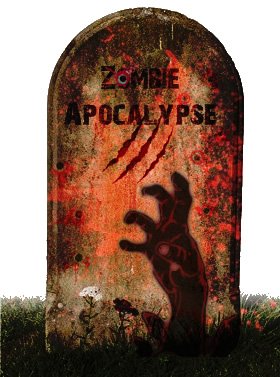 Zombie apocalypse is the first of 3 WordPress themes that we have made that are present in the official WordPress theme repository. And although they may not show it, there are still small traces of Zombie Apocalypse both in Mantra and Parabola. One example is the forbottom CSS class (<div id="forbottom">) that was originally created to hold the bloody hand and blood puddle in the bottom of the content area, that now serves no real purpose.
The second thing we wanted to mention in this post is that Zombie Apocalypse just reached 50 000 downloads this weekend. We know it's not much compared to other themes but this is a very specific looking theme that not many would find suited for their site. From what we cold see over the years, Zombie Apocalypse is used by rock and metal bands, biker's clubs, horror movies, sci-fi and horror writers, vampires, zombies and other variations, and some weird goth sex sites. No churches yet but let's keep our fingers crossed.
And the last of the 3 pieces of information we had in store for you with this post is that there's a new version out. Version 1.41 brings Zombie Apocalypse up to date with the latest 3.6 WordPress update and fixes some padding/layout issues. Here's the changelog:
Replaced deprecated add_custom_background() and add_custom_image_header() with add_theme_support()
Replaced deprecated TEMPLATEPATH with get_template_directory()
The background image is now a default WordPress background image and can be changed with ease (it used to be applied via CSS)
Removed post navigation padding and fixed attachment pages navigation
Replaced the copyright info with something similar to our newer themes
Changed a lot of function names
Well that was it. Only 3 days after celebrating 6 years of Cryout Creations and we have to get back to the heavy drinking for this one as well. It's a tough job but someone's gotta do it. Oh and don't worry, only coffee and hot cocoa are on the menu.