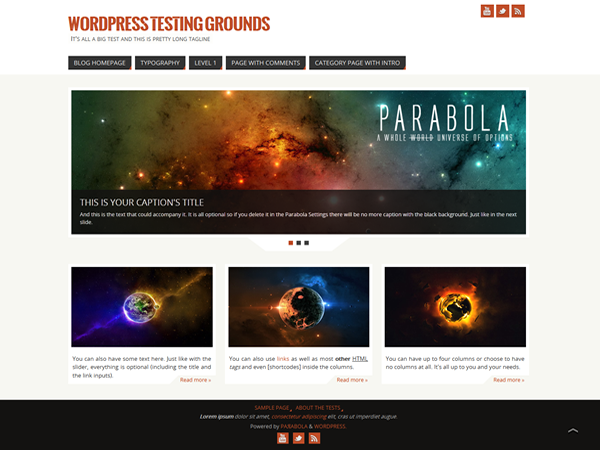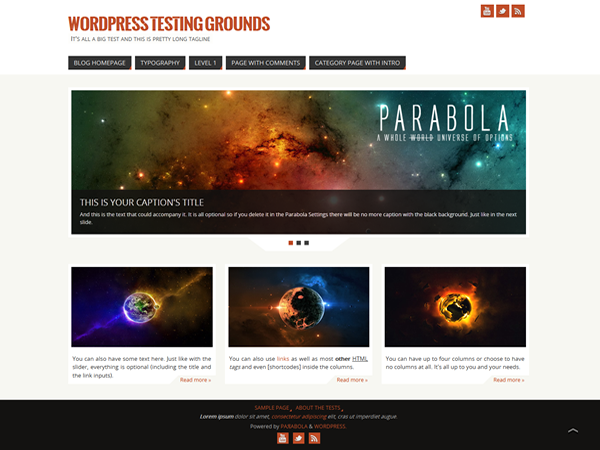 You probably haven't been waiting for it that much but nevertheless here it is. The newest Cryout Creations theme is finally available for download. We've tested it as much as we could but it's still practically a beta until you guys get a go with it.
Parabola is pretty much a Mantra offspring (and that can only be a good thing, right?) and quite a few things have changed (to be read 'improved'). We went for a more mathematical design – thus the name of the theme – and changed the settings page quite a bit. But don't worry, not only are all your favorite options still there, we actually added a lot more.
The biggest change comes with the color options. Now there are over 40 color options that we hope will fix all your customization needs. We've added more font options and 10 more font families to choose from. You also have a few more options for the social icons and the whole header section that in the meanwhile has been implemented into Mantra as well.
We'll let the theme do the rest of the talking for us so feel free to take it for a spin. The theme is just as free as Mantra is and the support will be the same (the forum section for it has been live for a while now). We're looking forward to getting feedback from you guys, especially about the new color options.
As it is currently pending review for inclusion in the WordPress theme repository, Parabola is not yet available for automatic installation. But you can follow our installation tutorial to get it live on your website. Have fun with it!
Update July 8th: Parabola updated to version 0.9.3.