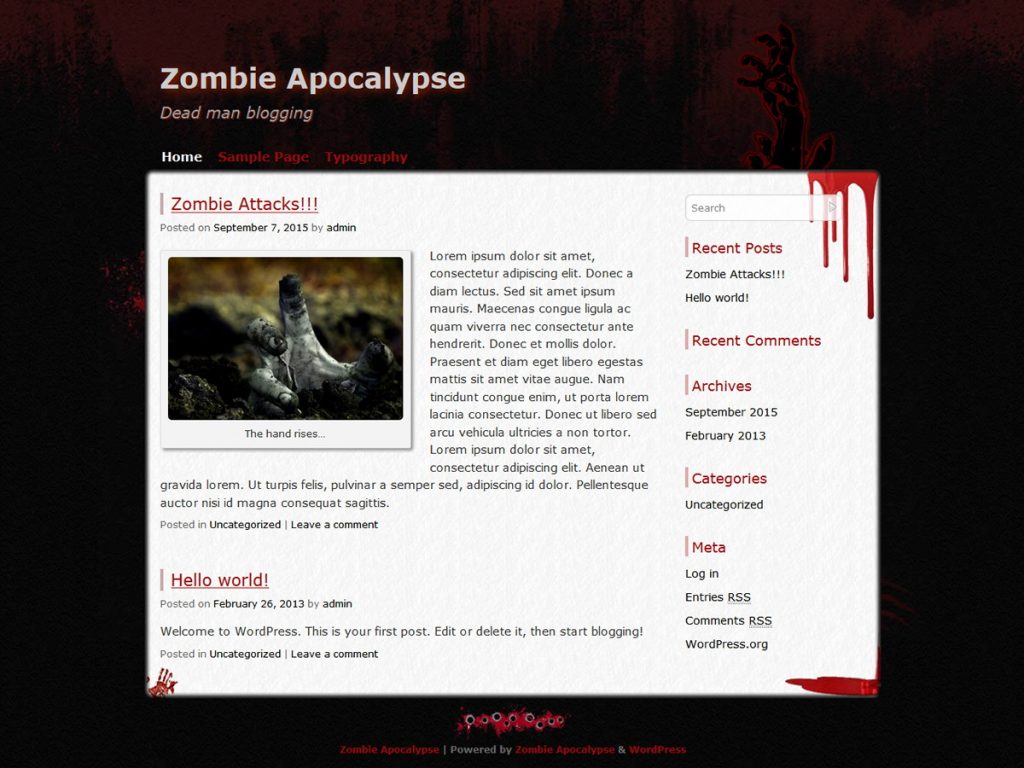 The Zombie Apocalypse is here! For the fifth year in a row… well not the actual apocalypse but your eponymous beloved, friendly, next door all bloody neighbour WordPress theme.
Lost for a couple of days into the undead abyss of not-updated themes, we've put all coffee aside for a week and worked on bringing it back from the other side.  This is version 2.0 of your favorite B-movie styled theme and a few things have changed but they're all for the best.
"Where did the theme settings go?" you might ask yourself right after installing/updating. Well, we killed them!!! But don't freak out, the zombie apocalypse is still in effect so their rotten corpses came back to life and you'll find them reincarnated in the Customizer.
Apart from a couple of visual changes that mostly have to do with adding or removing extra padding, borders, indents and transparency we've also made the theme fully responsive (including the menu), added gallery and aside post formats, and generally brought the theme up to date with the latest WordPress version.
So what are you waiting for? Go check it out!
Changelog:
version 2.0.1
fixed the "One Column" page template not being responsive
fixed background image for content container responsiveness
updated readme and added changelog information for most recent versions
version 2.0
migrated settings page to customizer based options and replaced settings page with about theme page
added overall theme layout responsiveness
added menu responsiveness
fixed menu layout issues related to menu items length
added title-tag theme support (for WordPress 4.1) and backwards compatibility code
updated theme featured image with larger version
improved old style/gallery posts support by implementing post formats
various CSS tweaks and fixes (widget titles, lists padding, sticky posts border and background colour, titles indentation, entry meta link colour and spacing, author background colour, input border radius, search box transparency and padding, side description indentation)
fixed search form not present on search result page when results were available