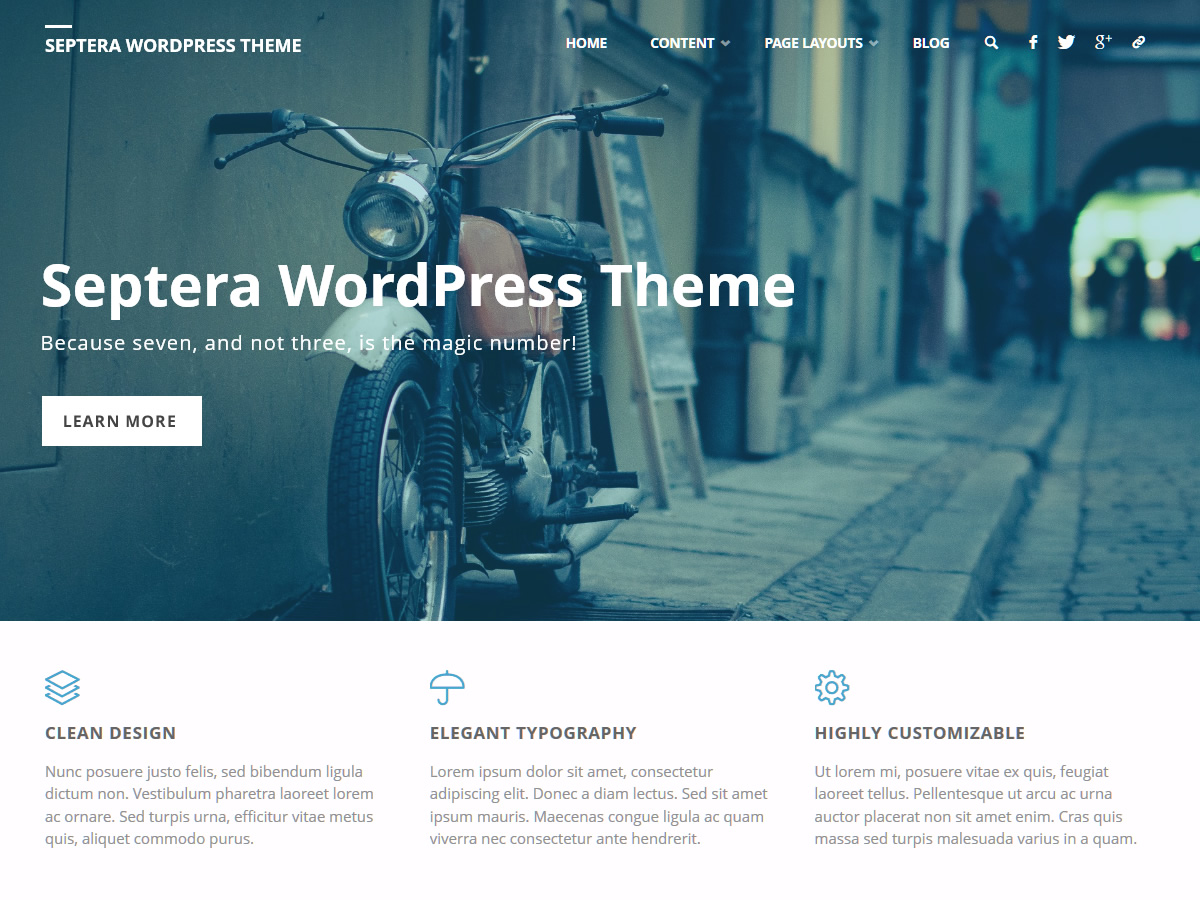 If you've been too afraid to manually install Septera until now, let me tell you that you're fresh out of excuses. Our latest theme, Septera, is finally LIVE on WordPress.org and ready for you to one-click install it and take it for a spin.
Septera is still free, it's still awesome and it's still brimming with personality but during the review process a few things have changed. So if you're just now updating from a pre 0.9.7.1 version of the theme, there are a few things you should have in mind:
The save/load theme settings feature has been temporarily removed. This feature seems to be in a grey area with the theme review team and we'll do our best to bring it back, one way or another
We've added demo images for the customizer preview. They won't show up on the live site but are just there to give you a better idea of what your WordPress site could look like
We've renamed the sidebar areas so some widgets may switch places
We've replaced the default slider and header images with new ones
And during this time Septera has also become a complete, fully-featured, all purpose WordPress theme. See it in full glory in our theme demo or download it and install it on your site. Remember to have fun with it!
Changelog:
v1.0.3
Fixed landing page CTA buttons responsiveness
Fixed image vertical alignment in main menu
Improved icon blocks responsiveness
Other minor responsiveness changes to the landing page, mobile menu and back to top button
Added IDs to landing page blocks and boxes
Fixed post navigation floating issue when no Previous Post exists
v1.0.2.1
Fixed loading comments template
v1.0.2
Added CTA (Call-To-Action) buttons to the landing page
Changed landing page slider and text area text sizes
Updated style.css description
Added a new default slider/header image
Updated screenshot
v1.0.1.1
Changed slider/header overlay default opacity value once more
Replaced demo featured images with smaller ones
Changed left/right widget areas IDs
v1.0.1
Changed slider/header overlay default opacity value
Removed slider/header image grayscale effect
Updated default header image
Restored 'Reset Defaults' functionality accidentally removed
Added demo featured images for when theme is previewed
Added support for the theme preview sample sidebar
Updated screenshot
v1.0.0
Fixed custom colour for the mobile menu dropdown arrows
Fixed author description and info link arrow on RTL
Hid socials and footer widgets in print styles
Fixed article titles size in index.php
Changed archive page titles to be bold
Removed WooCommerce page-title font-size using old font-root
Updated translation files
v0.9.8
Temporary removed 'save/load theme options' feature until we complete the discussions on the subject with the WPTRT
v0.9.7.1
Escaped variables in custom-styles.php, loop.php, meta.php and main.php