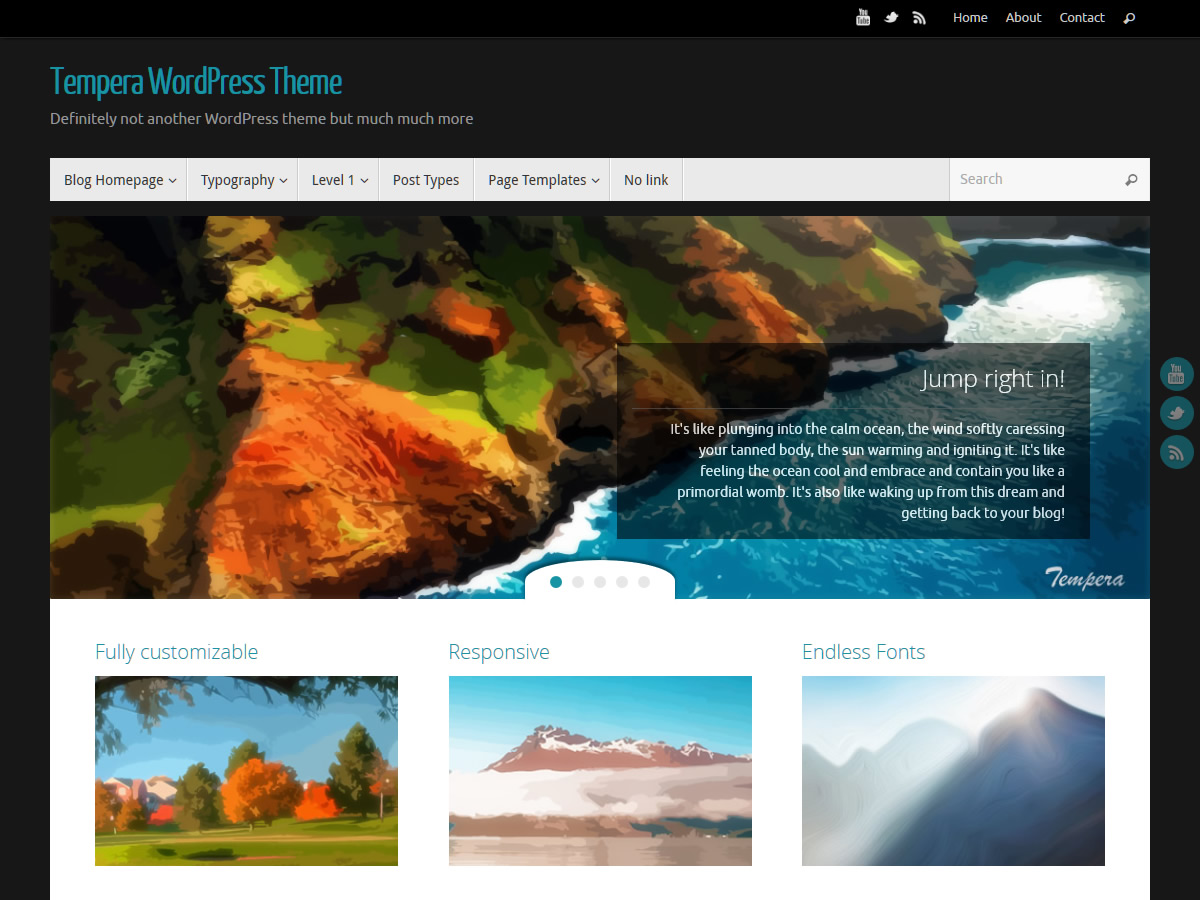 Following the trend started with our Parabola theme a while back, Tempera receives a well deserved cosmetic update. This update brings lots and lots of small changes, edits and fixes making Tempera an even more gorgeous and stable theme.
Visually the theme is now a tad wider, the featured images are bigger, font sizes vary in different ways, padding has been added to many elements, line height is now constant (and cascading) throughout the theme, the sidebar titles are darker and the continue reading button is lighter.
And under the hood all CSS has been formatted and cleaned up, the right-to-left styling has been redone, responsiveness highly improved and compatibility with plugins increased.
So this being a pretty big update, you may want to check out the theme's live demo before making the update, just so you know what to expect.
Changelog:
v1.5.2
Fixed changing 'mobile' to 'temobile' class to improve plugin compatibility
Fixed header widget overlapping site title/logo (due to changes added in 1.5)
Fixed notice of missing $post variable in frontpage.php
v1.5.1
Fixed paragraph indent applying to continue reading button
Fixed line height option resetting to smallest value after saving theme options since 1.5.0
Fixed headings still using fixed pixel-based values; also relaxed the headings CSS identifier to resolve an overlap with WooCommerce
Fixed site title / tagline height issue since 1.5.0
v1.5.0
Changed defaults: site width, slider sizes, featured image sizes, some default colors (submit and reset inputs and widget titles)
Changed titles, headings, metas and menus font sizes and line heights
Changed most font size and line height units from px to em
Increased padding for site content, metas, pagination, comments, header, footer and other elements
Increased the default content left/right padding and the value set for Graphic Section > Content Margins > Padding left/right now also applies between content and sidebars
Adjusted the comments' look, brought back reply arrow animation and fixed the missing nested comments
Slightly altered the continue reading button's design
Headings now get their font sizes from the general h1-h6
Removed blockquote from the presentation page's text areas for better shortcut/HTML tags support
Removed CSS declarations with old browser prefixes, cleaned up '!important' declarations
Changed social icon animations to use CSS instead of JS
Altered <code> and <pre> tags design (<code> is now inline)
Removed main menu top margin
Added support for external sliders in the Presentation Page using shortcodes
Renamed .mobile body class to .temobile to avoid styling overlap with plugins
Renamed all icon-* classes to crycon-* to avoid styling overlapping with plugins
Improved responsiveness
Improved RTL support
Updated theme screenshot