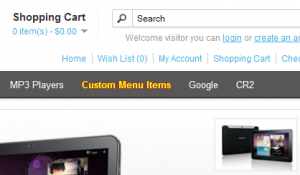 CR2 Alter Menu is an OpenCart module that allows you to modify OpenCart's main menu by adding or replacing the predefined links (mostly top categories) with custom defined links.
Features:
define your own links in the main menu (links to pages, categories, areas of OpenCart)
add the custom links by appending them to the existing menu, either at the beginning or the end of the menu
completely replace the existing menu with custom links
all link labels (the visible text in the link) are localizable (you will be able to add different labels for each language defined in your shop)
For an exact description of the features and the limits applicable to the free and paid versions, consult the table below.
Compatibility Note – The store theme used must follow some specific (compatibility) guidelines for the module to be compatible with it:
the menu is stored inside a html tag identifiable with either an ID or a site-wide unique classname.
the theme accepts modules in the Content Top or Content Bottom areas on all of it's pages/layouts/routes (not selectively on just some pages)
CR2 Alter Menu

Price:
$16
OpenCart Versions:
1.5.1.x, 1.5.2.x, 1.5.3.x
1.5.4.x, 1.5.5.x, 1.5.6.x
Fully localized custom links:
Replace or Append to menu:
User defined menu item holder:

Compatibility Mode1:
(for default-like themes)

Extreme Mode2:
(for custom and/or advanced themes)

Generated menu preview:

Shortcodes3:
(top categories, all categories, sub-categories of one category,
info pages, footer info pages, manufacturers, account, cart, contact)
Mobile menu support:
(currently only inside a <select> tag)
Purchase
(1) Compatibility Mode is designed to work with themes that are loosely based on the default OpenCart theme, with the main menu placed in a specific html holder tag, with a particular structure of lists and links.
(2) Extreme Mode is designed to allow full control over the HTML mark-up of the menu items, thus enabling support for more customized and advanced themes. HTML knowledge is required to be able to configure this mode.
(3) Shortcodes allow the automatic addition of OpenCart built-in content to the menu. Read the documentation for further information.