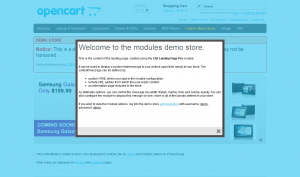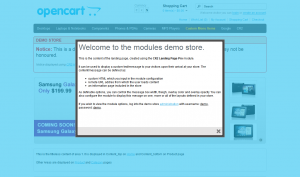 Documentation Demo Buy PRO Download
CR2 Landing Page (Pro) is an OpenCart module that can be used to display a custom message box / landing page to your visitors upon their arrival at your store. The message box / landing page will be displayed on top of the page(s) of your store.
The content/message can be defined as:
custom HTML which you input in the module configuration *PRO-only feature
remote URL address from which the content is displayed
an information page included in the store *PRO-only feature
The look and feel of the hovering landing page can also be controlled:
the width and height of the message box
the overlay colour and opacity (*PRO-only features).
the number of times the landing page is displayed, varying from once, twice… 10 times and always (currently PRO-only feature)
You can also configure the module to display this message on one, more or all of the layouts (sections) defined in your store.
Module comparison and compatibility table
CR2 Landing Page Pro

CR2 Landing Page

Price:
$11.45
free
OpenCart Version:
1.5.2.x, 1.5.3.x, 1.5.4.x, 1.5.5.x (1), 1.5.6.x

Landing page (message/text) content source

Custom HTML:
Remote URL:
Information Page:

Design customization

Control the number of times
the popup is displayed:

once, twice… 10 times or always

Message box
width and height:

fixed size and percentage (responsive)


fixed size

Overlay background
colour and opacity:
Buy
Download
(1)OpenCart 1.5.1.x is not supported as it does not include the required Colorbox library. OpenCart 1.5.5 requires a code line change to function properly.